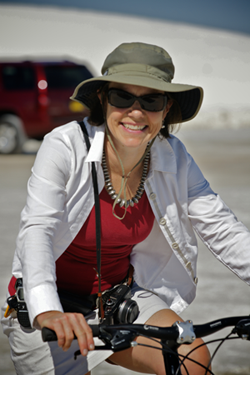 Cyndy McCrossen has over 20 years experience in the photography and film industry. She brings enthusiasm and dedication to every project. She is an expert location scout specializing in New Mexico. In addition to her award winning commercial and film work she offers a variety of additional services including location management and production coordination for still photography. Her experience includes work with projects of all sizes and budgets, national and international clients, white-glove service to seat-of-your-pants events.
AWARDS: Location Managers Guild of America 2014 'Outstanding Locations in a Single Commercial ' Coca Cola 'Beautiful'. http://www.lmgaawards.com/#!updates/c9aw
CLIENTS: Clients include agencies, film production companies, magazines and photographers.
2 Guns (2013) Starring Mark Wahlberg + Denzel Washington. Amblin Entertainment 'Bios'
American Cancer Society
America's Most Wanted
AMC 'Breaking Bad' (26 episodes)
AMC's Better Call Saul (Season One)
CBS 'Early Show'
Chevrolet
Coca Cola 'Beautiful'
Crispin and Porter
Dan Peebles Photography
Double D Ranchwear
Digifest/Duke City Shootout
Jeff Caven Photo
Dupont. EPIX/MGM
General Mills
Getty Images
Gold
Independance Day II
Jupiter Images
Karen Kuehn Photography
Neiman Marcus NETFLIX
Northern Entertainment (NBC/ USA Network)
Rick Johnson Agency, NM
Robert Reck Photography
Ogilvy + Mather
Public Service Co of NM
The Scott Conner Show
Shimano Bicycles
Sony TV
The Preacher (AMC/ Sony TV series.
USA Network 'In Plain Sight' (42 episodes)
United Blood Services
Uncle Forehead Productions
Visual Intelligence Agency
Warner Brothers
Weiden Kennedy
William Coupon Photography
Working Boy Productions
Numerous Editorial Publications

PROFESSIONAL ASSOCIATIONS
IATSE Film Technicians of New Mexico Local 480, Assistant Location Manager http://www.iatselocal480.com
LMGA Location Managers Guild International http://locationmanagers.org
New Mexico Women in Film: www.nmwif.com
American Society of Media Photographers, www.asmp.org NM chapter. (Past member)
2001-2003 Board Member:
Stock Artists Alliance: 2003-2005 President/Board Member.
(Former) International organization of photographers who produced images for rights-protected license. The mission of the SAA was to protect and promote the business interests of its members with regard to the worldwide distribution of their intellectual property. Former president and advisory/nominating committee. www.stockartistsalliance.org
St. Anthony's Alliance: 2000-Present Board Member www.stanthonysalliance.com
Non-profit organization which supports lifesaving and life enhancing interventions for the health and well being of people living in moderate and extreme poverty internationally. Developer of camera project for children in rural Mexico,'Club Foto del Rancho Colorado'